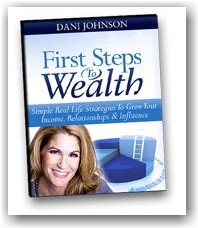 Dani Johnson, star of the ABC show "Secret Millionaire," Â is giving away free copies of her new book, First Steps to Wealth, for a limited time (you just have to pay for shipping).
I watched bits of the show a few times last year, but didn't really learn about her story until I saw her on a TV interview yesterday, talking about her new book.
Dani Johnson grew up on welfare, was pregnant at 17, homeless at 21, and a millionaire at 23.
From all that she's been through, she definitely has something to say about how to overcome adversity, get out of debt, change your life, and build wealth!
In the book, she talks about topics like how to…
Annihilate debt
Make more money in less time with less stress
Think like an entrepreneur
Increase your value to others
Achieve your goals and dreams
You can get your free copy of Dani Johnson's new book, First Steps to Wealth, at www.DaniJohnson.com.
You might also like: