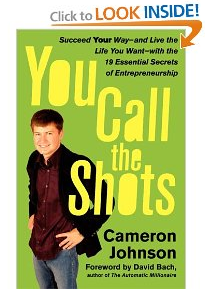 If you've ever wanted to learn how to start a business with little or no money, you'll want to read Cameron Johnson's book entitled, You Call the Shots: Succeed Your Way – and Live the Life You Want – with the 19 Essential Secrets of Entrepreneurship.
It's a very inspirational and motivational book that chronicles Cameron Johnson's life as a teen entrepreneur, and identifies 19 key principles of success that helped him build a dozen successful businesses before age 21.
I first discovered Cameron Johnson in 2009 in The YES Movie (Young Entrepreneurs Society), where he was featured as one of America's most successful young entrepreneurs. (Click to read my Review of The YES Movie.)
Johnson started his first business when he was nine with $50 and a home computer. He made his first million before graduating from high school. Before he turned twenty-one, he had started twelve successful businesses and was offered $10 million in venture capital to expand one of his online-based businesses.  But he turned it down because he'd lose his freedom to "call the shots."
He wrote You Call the Shots at age 21 (in 2007) and at that time, already had enough money in the bank to comfortably retire.  But he's having too much fun starting and building businesses to do that.  Johnson believes everyone can take control of their lives and find the work that will make them truly satisfied and happy.  From the book liner:
"Through the story of his own impressive career so far, in You Call the Shots, Johnson takes you behind the scenes of entrepreneurial success and empowers you to hit the ground running with your own great business idea, no matter how young you are or how little money you have to invest."
Who You Call the Shots is For
You Call the Shots is for anyone that has dreamed of starting a small business either full or part time, whether you're 14, 40 or 65. Â Cameron's point is that you're never too young, too old, or too late to achieve your dreams and live the lifestyle you want. Once I started reading it, I couldn't put it down, it was that engaging for me.
If you have budding teen entrepreneurs at home, as I do, this would be a great book for them to read because Johnson shares so many lessons he learned as a teen that have made him the success he is today.  And it gives great insight for parents on how to nurture the entrepreneurial spark within our kids.
Warning: Â Reading this book will make you question whether you are living up to your full potential! But I think that's a good thing. Â If Cameron can be a millionaire by the time he graduated from high school, and start 12 successful businesses by age 21…what's your (and my) excuse?
I'll be sharing some tips I gleaned from You Call The Shots over the next week or so, so be sure you're subscribed to the Life Compass Blog RSS feed so you don't miss anything.
One Regret
My only regret in reading the book is that I didn't read it sooner.  What I mean is that I brought it along with me on a trip that took me to Virginia, North Carolina, South Carolina and Georgia.  I was in the Roanoke, Virginia area at the beginning of my trip, which is where Cameron lives and where most of his story is based, but I didn't start to read the book until the latter part of my trip, after I left the area.
I kicked myself, because I would have enjoyed visiting some of the places he mentioned in the book, and maybe would have even tried to meet him.  Don't think that's possible?  You'd be surprised, because he gives an account in the book of how he had an amazing encounter with Donald Trump when he was 8 years old, just because he asked (page 10)!
And that's the first major secret of success that Cameron Johnson shares in You Call the Shots: "Put yourself out there."  Believe in yourself, believe in what you're doing, be bold, and take action.
You might also like: