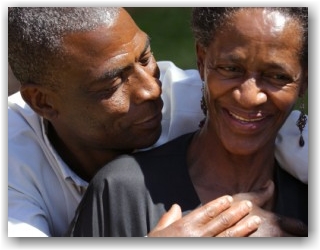 For those of you who are new to Life Compass, I write on Spirituality, Faith and Ethics every Sunday.  Here's why.
Have you ever noticed how tough situations can sometimes make or break a person or couple?
Why is it that in times of crisis, some people just barely hang-on and survive, while others grow and thrive?  Or why some couples come closer together, while others are driven apart?
My wife and I went out for dinner on Thursday night to celebrate Valentine's Day.  I know, we were a few days early! But it worked best for our family's schedule.  We had a great dinner out and enjoyed a show called "Grand Rapids' Got Talent," which is our city's local version of the "America's Got Talent" TV show.
During our date, we reminisced a bit about some of the challenges we've faced in our 17-1/2 years of marriage.  The biggest one happened 10 years ago, when our oldest son was diagnosed with a brain tumor.  I mentioned this last week, in a post on the ten best employers for work-life balance, regarding how my employer was very generous to us during that very difficult time.
Our son was 3-1/2 when the tumor was diagnosed.  He had two surgeries, spent a total of 5 weeks in the hospital, and went through many weeks of physical and occupational therapy.  Today, he's a healthy 13-year old and you'd never guess anything like this would have ever happened to him.  But at the time, of course, we didn't know how things were going to turn out.
While his illness would have been difficult for any family to deal with at any time, it was especially difficult for us at the stage of life we were in.  First, we had an 18-month old toddler to care for, and second, my wife was nearly 9-months pregnant with our third child.  That child, also a son, ended up being born while our oldest was still in the hospital!  So for a few days, I had three family members in the hospital: my wife, my newborn baby and my oldest son.
Today, 10 years after our son's illness, we can look back at that crazy time with fond memories for how God blessed us and provided for us during the entire ordeal. We remember the many friends who cared for our younger son as needed.  And the dozens of people – some we didn't even know – who brought us meals in the hospital and at home, and who helped clean our house and mow our lawn. We survived and thrived because of our faith, God's healing power, and the help of many friends.
What keeps you strong and helps you through the hard times in your life and marriage?
You might also like:
How one man found his higher calling
What's the state of your union?
The three big questions for a frantic family