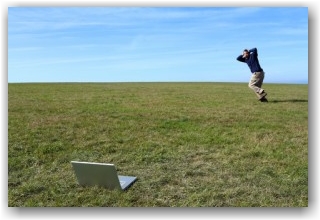 Do you ever feel overwhelmed by social media and find it hard to keep up with the people you follow on Facebook and Twitter? Â You're not alone!
Two famous people I follow on Twitter, Michael Hyatt and Chris Brogan, recently declared Twitter bankruptcy.
In other words, they decided to unfollow everyone they had been following on Twitter, because their Twitter stream had become too overwhelming.
Both of them had over 100,000 followers, which meant they were unable to keep up with the people they really wanted to keep up with. Â And, they were getting a ton of spammy direct messages on Twitter, which they had to cull through every day.
One of the reasons they were following so many people was that they auto-followed everyone, which means that when someone followed them, they automatically followed that someone. Â The problem is that there are a lot of spammers on Twitter who follow thousands of people in the hopes that a percentage will have the auto-follow on, so they'll get followed back.
Auto-following on Twitter never appealed to me. Â When someone follows me on Twitter, I typically click over to their page and see if they have content that I'd be interested in following. Sometimes I do, sometimes I don't. Â I don't have a hard and fast rule one way or another…it's more intuitive, I guess.
Sometimes I can tell if someone's a spammer by the tone of their tweets, so not only do I not follow them, but I also block them from following me. Â  And when I receive spammy tweets, I report them as spam and block them right away.
One of the things I love about Twitter is the variety of people I can interact with and the quality of information that is being shared – especially when it comes to personal growth and development, which I'm passionate about. Â You just have to cut through the clutter sometimes to find it.
Social media can be overwhelming if you let it, but I am doing my best to keep it in balance. Â I don't know if my system is perfect, but it works for me.
What about you? Â How do you decide who to follow on Twitter? Â Are you overwhelmed, or is it manageable? Â By the way, if you want to follow me on Twitter, I'm @RichAvery.
You might also like: