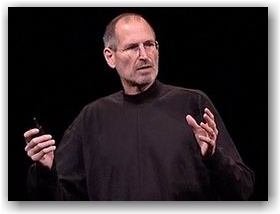 Apple founder Steve Jobs will long be celebrated for revolutionizing several industries, including personal computers, digital publishing, music, animated movies, phones, and tablet computing.
While I'm a devoted Apple fan and iPhone, iPod and Mac user, what's more interesting to me than what Jobs did in his life was how he did it.  In other words, what were the factors that helped him become the success that he was?
I've read several articles about Jobs over the last few days since his death, and uncovered some interesting personal growth life lessons we can learn from his life.
Personal Growth Life Lessons from Steve Jobs
1.  Continuously innovate – Steve Jobs was never satisfied with today's reality.  He was always thinking about what's next.  He envisioned the future, then assembled a team and worked diligently to create it.  One observer put it this way:  Jobs knew what we needed before we did.  As the holder of over 300 patents, Jobs made many new products, and he made other products better.
2.  Care about the design – Jobs was on a mission to create products that changed people's lives.  And to him, form was as important as function.  The Mac, iPod, iPhone and iPad have forever changed the way people work, watch movies, and communicate – not just because they are great products, but also because they are beautiful and a joy to use.  The life he lived, the products he created, and the experiences he provided were all intentional and by design.
3.  Don't let failure stop you – Jobs was devastated when he was fired by Apple in the mid-80's.  But he didn't let it stop him. After leaving Apple, Jobs went on to start a new computer company called NeXT, and an animated movie studio called Pixar.  Jobs later admitted that getting fired by Apple was the best thing that could have happened to him because it helped him become a better person, designer, and businessman. 
In 1996, Apple bought NeXT and Jobs rejoined the company. The technology he developed at NeXT is at the heart of Apple's success today. And that little animation company called Pixar?  It became the most successful animation studio in the world, and Jobs sold it to Disney for $7 billion dollars.  Jobs exemplified the fact that failure isn't final unless you make it so.
4.  Do what you love – In his famous 2005 Stanford University speech, Jobs explained that the only thing that kept him going after his firing from Apple was that he kept doing what he loved.  It was his love of computers that helped him rebound from that firing to start NeXT and Pixar. He said:
"You've got to find what you love…Your work is going to fill a large part of your life, and the only way to be truly satisfied is to do what you believe is great work. And the only way to do great work is to love what you do. If you haven't found it yet, keep looking. Don't settle. As with all matters of the heart, you'll know when you find it. And, like any great relationship, it just gets better and better as the years roll on. So keep looking until you find it. Don't settle."
5.  Don't live someone else's life – Reflecting on his battle with cancer, Jobs said, "Your time is limited, so don't waste it living someone else's life…Don't let the noise of others' opinions drown out your own inner voice. And most important, have the courage to follow your heart and intuition. They somehow already know what you truly want to become. Everything else is secondary."
Applying These Personal Growth Lessons in Your Life
Here are some questions to help you apply these Steve Jobs Personal growth lessons in your life:
What can/should you innovate in your life, work, or the world around you?  Take a look at your life and work with a fresh set of eyes.
How can good design make your life and work better?  What can you do to add more beauty to your life, and the lives of others?  Are you living your life by design and on purpose, or are you just responding to whatever comes your way?
What failure or problem in your life can you turn into a positive?
Are you doing what you love?  If not, what's stopping you?
Are you living your dreams?  If not, have you at least written down everything you want to have, do, be and achieve in your master dream list?
You might also like: