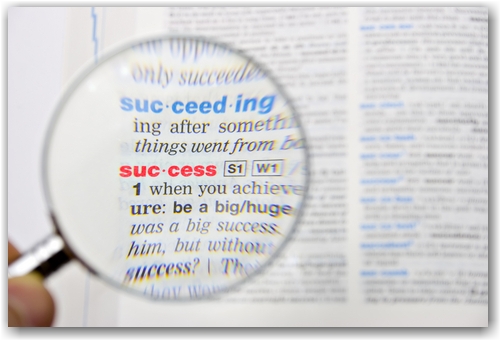 Have you defined what success means to you?
I've observed that a lot of people go through life not really knowing what they want.  They've never taken the time to define success.
So they live frustrated, unsatisfied and unfulfilled lives.  Always wishing for what could have been. Instead of making it a reality.
In The Truth About Getting More Done, author Mark Fritz says that before you can create the life you want, or even attempt to live your dreams, you need to first define what success means to you.
Once you've clearly defined success, you can identify the goals that will help you achieve it, and the tasks that need to be done in order to achieve the goals that will lead you to success.
I think it is important to look at success in a balanced way.  Don't just think about success in your work or finances – which is where most people focus their time and success energy.
Instead, identify what success looks like in all areas of your life:Â  your career, finances, family relationships, community involvement, personal growth and development, and health too.
Two Key Factors in Defining Success
The Truth About Getting More Done lists two key factors in defining success:
Your passion – what drives you, inspires you, and gives you energy.
Your potential – what you want to achieve in life, what you are capable of becoming.
I've observed that there is power in following your passion -  in doing the work that inspires and energizes you.  Why?  Because all of us have an internal built-in motivation to do what we love to do.  I've never procrastinated on something I just couldn't wait to do.  Have you?
Similarly, I've noticed that when we have a goal that stretches us, we summon resources within us that we may not have known we had.  You've probably noticed this happening during a time of trial or adversity, when you've responded to circumstances outside of your control. The same thing happens when we set our mind to accomplish a goal that seems beyond our reach at the present time.  We rise to the challenge.  And it brings out the best in us.
I believe all of us have great potential to do things we never thought possible.  Our potential can drive us to higher heights, if we learn how to tap into its power.
But we'll never live our passions, reach our full potential, or enjoy true success until we've clearly defined what success is.
Writing Your Definition of Success
In my next post, I'll explain how to write your definition of success.  To get you started, let's do a little brainstorming.  Take some time right now to write down your answers to these questions:
What does the word success mean to me?
What am I really passionate about?
What gives me energy and what takes my energy?
What have I always dreamed about accomplishing but haven't really thought about how to do yet?
What potential do I see inside of me and what have others told me about my potential?
You might also like: