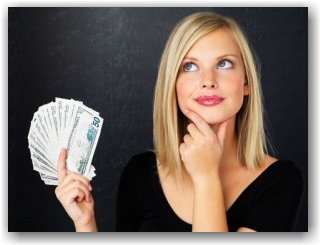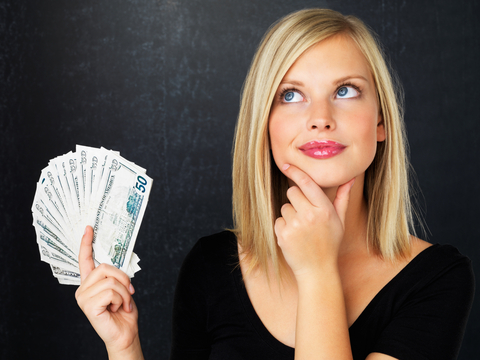 Have you ever thought that "just a little more money" would make you happy, content, and free from money worries.  I know I have at different times in my life. But as I think about it, I realize that it does not.
In fact, research Dr. David Krueger shares in his book, The Secret Language of Money, shows that the amount of money we make really has nothing to do with our feeling of happiness or contentment.  He explains why:
"Your level of financial contentment is based on your definition of what money means to you."
If you want to enjoy more financial peace and contentment in your life, Krueger suggests that you fill in the blank in this statement: "To me, money means _________________."
Krueger explains that…
"Your answer suggests a money equation – a primary meaning that you attribute to money.  Your money equation is a filter or window through which you see people, possessions, and events, a portal through which you make decisions both great and small.

We each have our own unique secret language of money, each based on our own unique money equations. Yet there are a handful of common meanings…from which many of us unconsciously draw the principal money themes in the lives we create for ourselves."
In The Secret Language of Money, he lists some common equations that people have with money.  I'll share some of them here:
Money means freedom – Having money typically increases our range of choices.  People think that having a lot of money will solve their problems.  Yet for many (like sports stars and lottery winners), having a lot of money is really the beginning of their problems.
Money means security – Some equate money with financial security.  And that's fine because it is measurable, attainable and doable.  But when people equate money with emotional security – when money represents the fulfillment of an emotional need – they quickly find that there can never be enough.
Money means love – People often try to merge money and love – usually with disastrous results. Parents might substitute gifts for their kids in lieu of spending time with them. Benefactors might donate money to a civic organization in order to gain the praise of others.  Money may not buy us love, but it sure can seem like it does.
Money means happiness – The idea that money will bring happiness is one of the most pervasive and persistent money themes in modern culture. Research suggests that money really can't bring happiness, but it can prevent certain forms of unhappiness.
Money means power – Since childhood, almost everyone has equated wealth with power, to one degree or another.
Money means time – In modern society, time has come to be measured in terms of money.  As hours turned into wages, time could now be not only experienced but also spent, saved, and wasted.
Money means autonomy – For some, especially young adults, money means autonomy and independence.
Money means self-worth – Achieving some level of wealth boosts our self-worth (how we feel about ourselves).
Money means fear – The lack of money strikes fear in the hearts of many.
Money means opportunity – Money can open doors and options for us.
Money means control – Money, the granting and the withholding of it – is perhaps the most common instrument through which we exercise control over others, especially our loved ones.
Money means living – Money can make your journey easier, and free you up to pursue your dreams.
The challenge for us is that money means anything and everything. Money can give us great opportunity and can paralyze us.  It can be both a blessing and a curse.
And because people often make decisions based on an emotional basis, money can easily lure and sway us one way or another.  According to Krueger, "Money can make any statement, carry any message, and represent any notion.  Money is like an object in a dream:  it can mean anything we ask it to mean."
What is Your Money Equation?
Krueger explains that learning the secret language of money starts by becoming clearly and consciously aware of the assumptions and beliefs you hold about money.
In the book, he shares a simple way to begin to understand what money means to you:
Think about your last three purchases of more than $100.
What does each purchase mean to you? In other words, how does it make you feel?
If it didn't give you that feeling, would you still make that purchase, at that price?
If you answered "no" to question 3, then how much would you spend on each purchase if it gave you only what you actually bought, and not the feeling that came with it?
Think about your answers for a minute.  Did they give you any new insights into your own secret language of money? Did you realize, when you made these purchases, why you were making them – both the practical reasons and the emotional reasons?
In light of your answers to these questions, what does money really mean to you?  Does it mean what you want it to?