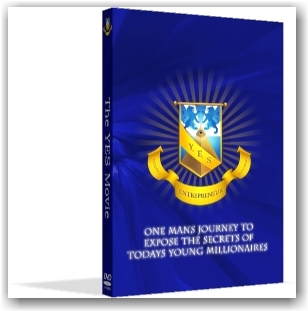 A few months ago, I heard about The YES Movie, produced by Louis Lautman of the Young Entrepreneur Society, which exposes the secrets of today's young millionaires.
I had never heard of Lautman before, but I was eager to get a copy of the movie for myself to see what it was all about. I've been fascinated with entrepreneurship since I was a teen.
Growing up, I frequently read books by or about successful entrepreneurs.  I loved reading stories of self-made men and women – people who took an idea and turned it into a reality.  And I aspired to be like them – to own my own businesses and one day become a millionaire.
At age 39, I haven't become a millionaire yet, but I have started several small businesses over the years that have had varying degrees of success.  Someday, I'll tell you more about the ones I wish I had started, the ones I started and quit, and the ones I'm still engaged in – and why.
When I was a teen, most of the books I read were by or about people who were older, and who owned companies that required huge amounts of capital investments – like manufacturers, retailers, and airlines, to name a few. Today, even with the struggles we've had in the economy lately, I think there's never been a better time to start a business.  The Internet Age has changed everything, and a new breed of young entrepreneurs are creating wealth quicker, cheaper and earlier than every before.
Lautman, himself a young entrepreneur, set out to interview 50 successful entrepreneurs, CEOs, millionaires and mentors.  His goal:  to hunt down specific strategies of the super-successful that anyone – regardless of background, age, experience, or financial backing, can implement. Specifically, he wanted to know:
What was their inspiration?
Why did they take action?
How did they finance their venture?
Where did they begin implementation?
I absolutely love how the movie was produced.  It is very much like the documentaries you see on the CNBC cable network which feature stories of successful businesses like McDonalds, WalMart, Coca-Cola, etc.  The music, and the way in which the interviews were shot, also reminded me a lot of The Apprentice, which I loved.  You can click to view the movie trailer and see what I mean.
The YES Movie, which runs 80 minutes, features Lautman's interviews with over 35 successful entrepreneurs, CEOs, millionaires and mentors.  I was already very familiar with many of the mentors that were featured, including Jim Rohn, Les Brown, and T. Harv Eker, just to name a few.  Here's Part 2 of my review of The YES Movie, along with the list all of the mentors and entrepreneurs who are featured in the film.
I was not familiar with many of the young entrepreneurs that were featured.  One thing that surprised me was that many of these entrepreneurs, both black and white, started their first businesses when they were children or teens.  And some even became millionaires in their teens!
This video is a great introduction to entrepreneurship.  In fact, it is kinda like having your own mini-MBA course.  By telling the stories of successful entrepreneurs, it shows that truly anyone can be, do and have anything they want in life.  It covers topics like:
Where do you get ideas, and how do you turn them into a money-making business?
How do you take action and turn your dream into reality?
How do you take risks and overcome failure?
How do you go from having a job (even a dead-end job) to running your own business?
How do you finance your enterprise, especially if you have no money yourself.
Where can you find mentors who can help?
Who is The YES Movie for?
This video is for anyone who has ever dreamed of starting their own business, but didn't think they really could do it (for whatever reason).  No matter your age or stage in life, you'll definitely be inspired and motivated to finally take action and realize your dreams.  You'll discover that there are simple steps you can take today to more forward, and short-cuts that will help you accelerate the achievement of your goals.
One interview, with Delatorro McNeal II, is worth way more than the cost of the video, in my opinion, for anyone who is, as he says, "caught between a dream and a job."  He shared some powerful insights on how to move from a dead-end job to a stepping-stone job, and from a stepping-stone job to your dream job, and from your dream job to the fulfillment of your dream.  Every 9-5'er in the world ought to hear his message.
If you have young people in your life (teens, college students, or young adults) who have an interest in entrepreneurship (or you'd like to instill the desire in them), I think this inspirational and motivational video would make a great gift for them. And if you're a teacher or home school family (like ours is), this video will serve as a great introduction to entrepreneurship for your teenage students.
The only potential negative I see is that one entrepreneur featured in the video, Dan Caldwell, goes by the nickname "Punk Ass".  He's a nice guy in the video – there is no foul language – but Lautman does refer to him by his nickname a few times.
As a father of five children ages 3-13, I think concerned parents or teachers should preview the movie to understand the context of the interview with "Punk Ass" (aside from his name, nothing else could be construed as offensive) and then simply give a disclaimer before showing it to your students.  They'll probably just chuckle a little bit.  And who knows – it just might cause them to pay closer attention!
But I don't think anyone will get bored watching this movie.  It will light an entrepreneurial fire in the belly of everyone who watches it.  It did for me. Order the The YES Movie online (DVD format) here for only $29.97.
Here's Part 2 of my review of The YES Movie, along with the list all of the mentors and entrepreneurs who are featured in the film.