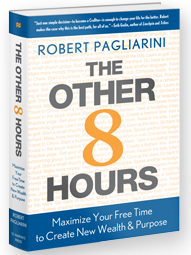 Do you ever feel like you can never find the time to pursue your dreams and live the life you want?
Would you like to eliminate all the people and activities that drain you, and replace them with positive and life-affirming ones?
Do you feel like your life is on "auto-pilot", heading who knows where, and you'd desperately like to turn it around in a positive direction.
Would you like to live every day with purpose, knowing you're making real progress on your goals and dreams?
If so, you need to read The Other 8 Hours: Maximize Your Free Time to Create New Wealth & Purpose, by Robert Pagliarini.
Here is an excerpt:
Your day doesn't start when you crawl out of bed. Your day-and even your life-doesn't really start until 5:00PM. What you've done with your time after 5:00PM last week, last month, and last year has determined where you are today. How you use the other 8 hours today, tomorrow, and next year will determine your future-they are your only hope to radically improve your life. The 8 hours you sleep are lost. The 8 hours you sell for a paycheck are gone. What you have-really, all you have-are the other 8 hours. Life not only happens in those the other 8 hours, but life is the other 8 hours.

Where you work, the size of your paycheck, the amount of debt you have, what you weigh, the number of people you can count on to help you in an emergency, your connection to God, the relationship you have with your spouse and children, and just about everything else that is meaningful to you is the result of how you've used the other 8 hours.

What are you doing after 5:00PM to move your finances and life forward?
Pagliarini makes the case that every area of our life is impacted by how we spend or invest (or maybe I should say that every area of our life is impacted by whether we spend or invest) the other 8 hours – our "free" time.
The quality of our health, personal growth, spirituality, personal and family relationships, finances, etc., are all impacted by the choices we make during the 8 hours we're not sleeping or working.
We can spend that time haphazardly and watch it slip away,  or we can strategically invest it in people and activities that will make a real and lasting difference in our lives and the lives of others.
In the book, Pagliarini shares dozens of strategies like how to:
design your life
free-up time for what's most important
make your ideas and dreams a reality
be massively productive
eliminate all of the time-sucking and energy-draining activities from your day
turn bad habits into positive habits that can help you
become more creative
eliminate roadblocks in your life
increase your chances for success
and much more
Here are some of my takeaways:
Most successful people are intentional – they live on-purpose and make life happen for them instead of letting it happen to them.  Most unsuccessful people just let life happen and deal with it as it comes.
Little things make a big difference.  Just a few minutes intentionally invested in one project or in one life area over time can yield big results.
As much as I've tried to eliminate time-sucking activities from my life, it is still a daily battle for me.
Working smarter, not harder, is one of the keys to success.
If I want to reach my full potential, I need to be intentional about how I spend the other 8 hours.
Here are Some Recommended Next Steps For You: