If you're new to Life Compass, on Sundays I write on spirituality & faith. You can learn more by clicking here.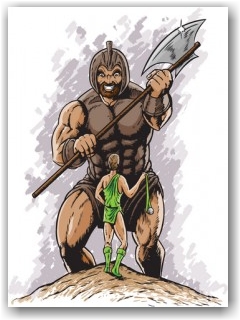 We're two weeks into the New Year, and I've been thinking about some of the giants I face this year, in both my work and personal life.
Am I talking about huge men or ogres?  No, the giants I'm talking about are the challenges, problems or opportunities that, right now, seem so huge and insurmountable from a human perspective.
All of us face giants like these at one time or another. Where do you turn for strength to help you face the giants in your life?
This week I read the biblical account of David as he faced a giant who literally was a huge man and a mighty Philistine warrior named Goliath.
While everyone else in the Israelite army cowered in fear against this giant who had defeated all who fought him, David found strength in the God who had already carried him through many other challenges and struggles in his life.  He said:
"The Lord who delivered me from the paw of the lion and the paw of the bear will deliver me from the hand of this Philistine." – 1 Samuel 17:37
David didn't look at his current challenge of facing the giant Goliath as an isolated situation.  Instead, he looked at it through the lens of his past experiences with God.  He knew that God had been with him in the past, and that he would be with him in this new battle.  David was confident he could fight Goliath using the strength and abilities that God had already given him.
It is interesting to me how I often think I need to gain new skills or abilities in order to face new challenges…and yet I might already have within me all the skills I need to do it, with the Lord's help.
What giants are you facing this week, month or year?  What past experiences with God will give you strength and courage as you face these challenges?  What are the strengths and skills that you already have that will help you overcome the giants in your life?
You might also like: