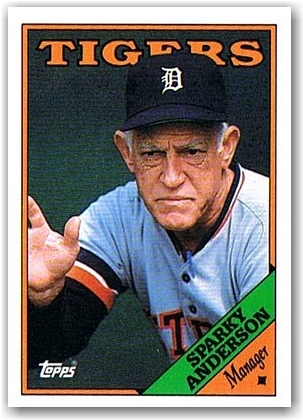 Legendary baseball manager Sparky Anderson died last week at the age of 76.  When I was a teen he managed the Detroit Tigers – my favorite team – and led them to win the World Series in 1984.
As I read a USA Today story about his death, I was struck by a quote that was attributed to him:
"I've got my faults, but living in the past is not one of them.  There's no future in it."
How true!  Literally, there's no future when we live in the past.
But sometimes we find ourselves stuck in the past, because of mistakes we've made or wrongs that others have done to us.
So how can we let go of the past and move forward in life?  Here are a few tips:
Accept that you can't change the past, but you can change your future.
Find someone you trust who you can talk to – someone who is a good listener, can keep a confidence, and will help you find a positive outlook.
Forgive yourself and others (even if they don't ask for forgiveness), and be quick to seek forgiveness from anyone you've wronged.
Let it go. Really. You can't begin to heal until you've truly let it go.
Seek to maintain balance in your life, work and relationships.
Volunteer your time to help others.  It gets your mind off your problems, helps you focus on the needs of others, and can change your outlook on life.
What else would you add to the list?
You might also like: