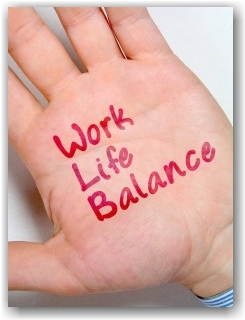 A recent story by Kiplinger's reports that work-life balance problems are worsening for many Americans due to the recession:
According to StrategyOne, a consulting firm with offices around the U.S., Americans' work-life balance is increasingly out of whack. Nearly a third of workers say their work-life balance is off; the rate is even higher among middle-aged male workers. Forty-four percent of that group say they are spending too much time on the job and too little time with family.

It  comes as little surprise that the recession has exacerbated people's  work-life balance issues. Fully 38 percent of the 1,043 Americans  StrategyOne surveyed say their work-life problems have gotten worse  since the recession began; just 10 percent say they've gotten better.
I can see a few reasons why work-life balance problems are on the rise:
Many employers have cut back on staffing and are asking current employees to do more.
People who have a job are working longer and harder in hopes of keeping it.
Some are working two or more jobs in order to make ends meet.
More people are getting "stressed out" because of economic uncertainty, job worries, or increasing personal debt load.  Stress can cause work-life balance problems in a person's life even if everything's fine at work.
Personally, I'm experiencing some work-life imbalance right now, but I can't ascribe it to the Great Recession.  I've been traveling a lot for work (which takes me away from the family at times) and I'm trying to get a rental house cleaned and fixed up so a new tenant can move in (and hopefully, I'll find a good one).I'm still making time for the family (we're really enjoying the ArtPrize competition in our city), but things do get a bit crazy at times.
What about you – has the Great Recession negatively impacted your sense of work-life balance?  Please share your experience in the comments section.
You might also like: