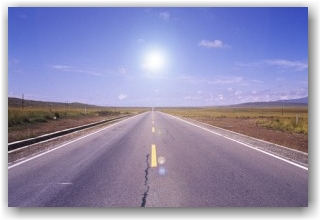 When you think about what success looks like in your life, do you tend to define success as the reaching of your desired destination (in other words…achieving your predetermined goals)?  Or do you think about enjoying success in the journey too?
I've known of people – you probably have too – who worked hard all their lives, made a lot of money, and couldn't wait for the day when they could retire and finally enjoy time off and all the fun, happiness and fulfillment they thought their money and time could provide.
But when they finally did reach that destination and achieve that goal, they were greatly disappointed.  Why?  Because the happiness and fulfillment they thought they'd find doesn't always magically appear when a goal is achieved.  It is also accumulated, little by little, along the way.
Sadly, some people give themselves totally to a dream of happiness and fulfillment in the future and miss the opportunity to enjoy happiness and fulfillment right here, right now.
If you really want to be successful in life, I think you need to take both into account.
I love Earl Nightingale's definition of success:
"Success is the progressive realization of a worthy goal or idea."
In other words, success isn't just about the destination, but about the journey too.
Gratefully, more people are waking up to the idea that we can enjoy happiness and fulfillment now in their everyday lives.  They are searching for greater work-life balance, engaging in a lifestyle design process that helps them create the life they want today and in the future, discovering their life's passion and living their purpose.
In The Truth About Getting More Done, author Mark Fritz says:
"In creating the life you want, it is all about putting into your daily activities more of what makes you happy and helps you grow. Remember, you are designing a life that both reaches the destination and enjoys the trip.  Invest the time to design your life upfront and you will always enjoy the journey.  Jim Rohn said it best, 'Learn how to be happy with what you have while you pursue all that you want.'"
I'm glad he shared that quote from Jim Rohn, because I don't recall hearing it before.  There is power in being happy with what we have today, even while we're pursuing what we want for the future.
So what are some of the best ways to reach your potential and enjoy the trip? Fritz suggests three things:
Align your life behind your passions and potential – Which first will need to be discovered and clarified.
Include in your life those activities that make you happy – These are the relationships and activities that provide you the most enjoyment and fulfillment.
Include in your life those activities that help you grow – The personal development techniques, tools, and attitudes that help you grow farther faster
What about those who don't have a destination in mind, and don't know their passions and potential?   I think the chances are good that they won't find much happiness or fulfillment at all. Because not only do they not have a destination in mind, but they no purpose in the journey.
What do you think?
Recommended Reading: