I didn't know what to expect when I signed up, nearly a year ago, to host The Best of Money Carnival #79 this week, here at Life Compass Blog.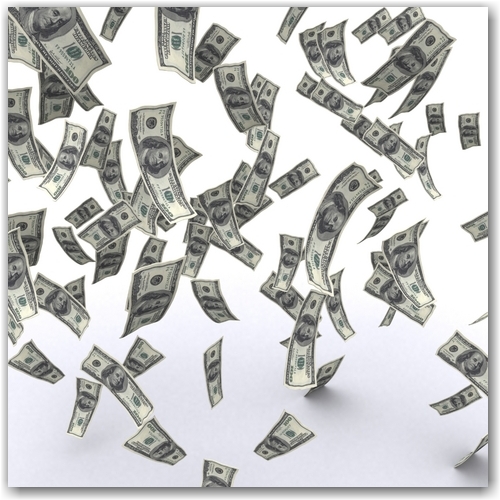 When I first heard the words "money carnival," my mind immediately thought of carnival clowns wearing big shoes, fuzzy hair, and red noses, doing tricks that involve animals and money.
Next, I started thinking about those TV game shows where someone gets a chance to stand for 30 seconds in a glass booth, while hundreds of dollars get blown around by a fan, and they get to keep all the money they can catch as it flies through the air.
But the Best of Money Carnival isn't any of those things.  It's the top ten posts on money and personal finance, as judged by the host blogger (which this week, is me), and chosen from 50 or more posts submitted by top-notch bloggers from around the world.
I'm glad for the chance to host the Best of Money Carnival this week, because it gives me a great opportunity to share the "wealth" of what others have written on personal finance – a topic which impacts just about every aspect of our lives.
Despite the big Thanksgiving holiday in the U.S., I received 50 submissions and had quite the challenge of narrowing the list down to ten.
Gratefully, I didn't have to wear big shoes, fuzzy hair or a red nose to host the Best of Money Carnival this week.  And I'm sure you'll be glad to hear that no carnival animals were injured during the writing of this blog post!
So, give me a drum roll, please, as I clear my throat and find my best David Letterman voice…
From the home office in Grand Rapids, Michigan…here are the top 10 personal finance posts in this week's Best of Money Carnival:
#10 – Jeff Rose, CFP from Good Financial Cents offers advice on When Should You *Sign Up For Medicare* To Get Full Coverage and Benefits, and a list of what you'll need to know about signing up to receive your Medicare benefits.
#9 – Mike Piper at Oblivious Investor presents Follow the Money: Evaluating Financial Advice. When it comes to evaluating investment advice, it pays to be cynical.  Asking yourself how the person giving the advice gets paid is always enlightening.
#8 – Dividist shares his new Traditional Thanksgiving Carving of the Currency, as it is sliced by Washington DC fiscal policy and diced by Fed monetary policy.  I especially loved the hilarious 7-minute cartoon video embedded in this post, which describes the Fed's new quantitative easing plan and how it will impact America and the world.
#7 – Intelligent Speculator tells us what we need to know about exchange traded funds in Back to the basics: ETF 101.
#6 – FMF, from Free Money Finance presents Why I Think Gold is a Loser Investment.  He explains that a good investment is  supposed to be bought low and sold high.  But the system with physical gold is rigged to do the exact opposite.
#5 – PTMoney.com gives the low-down on the Best 10 Cars Under $25,000 And The Cost Of Owning Them.
#4 – Freefrombroke shares their take on Building Credit From Scratch – Are Young Adults Doomed for Financial Failure? Do young adults have the cards stacked against them as they try to build up new credit? Temptation and student loans make it difficult for young adults to get ahead.
#3 – Ryan @ Cash Money Life offers Wash Sale Rule for Investment Losses, explaining the IRS rules regarding taking a tax deduction on investment losses and then buying the same investment again.
#2 – Arjun Rudra presents Discussing Sovereign Debt, Global Economics and Investing with Jonathan Wellum of RockLinc Investment Partners posted at Investing Thesis. This is a very informative post on the state of the U.S. and world economy, from a Canadian perspective, which I can especially appreciate since my wife and 5 kids are Canadian (and American).
#1 – Money Ning shares tips on How To Teach Your Kids To Budget.  He says…
"Knowing how to budget is incredibly important. Creating a realistic budget and sticking with it can save us from making major financial mistakes, including living beyond our means and incurring credit card debt."
This one has my top vote because it's a great reminder to all of us, especially with the holidays here, that we can't have it all.  Trade-offs are the key.  If we're going to maintain balance and stay out of debt, we have to give up some things in order to gain other things.
Congratulations to everyone in the top 10, and especially to Money Ning for first place this week in the Best of Money Carnival here at Life Compass Blog!  Next week's carnival will be hosted by Mighty Bargain Hunter.