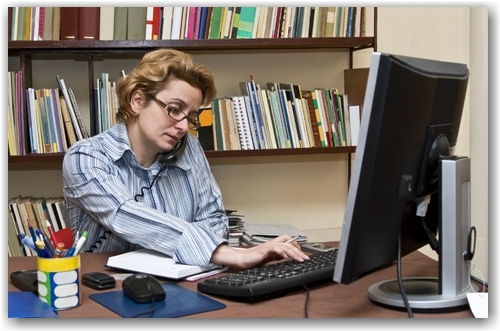 Last time, in What is the Best Business to Start?, I shared some tips on how to identify the kind of business that is right for you. And I told you about some of the growth industries that are ideal for new business start-ups.
Today, I want to share a list of some of the best home-based business opportunities.
These small businesses require little start-up money, have few licensing requirements (in most cases), and can be done in your own home by yourself without having to hire additional help (unless you want to, of course):
Internet Marketing – Selling products and services on the Internet via email, a blog, or web site.  Lynn Terry's Self-Starters Weekly Tips is an excellent resource for anyone wanting to build an Internet-based business from start to profit.  For web domain name registration and web site hosting, we recommend Bluehost, GoDaddy, or Host Gator.
Personal Organization – Helping others organize their personal and/or work life.
Home Organization – Helping others organize their home.
Lawn Care – Mowing, snow removal, leaf removal, landscaping, etc.
Child Care – Caring for children in your home or the child's.
Elder Care – Caring for the elderly.
Freelance Writer – Writing for the web, public relations, marketing, etc.
Web Designer – As more information, products and services are made available online, the  need for talented and creative web designers continues to grow.
Event Manager/Wedding Planner – Organizing special events, meetings, conventions, concerts, weddings, etc.
Home Staging – Providing home furnishings for empty homes that are for sale.  Furnished homes sell better and faster than empty ones.  And with the skyrocketing number of foreclosures, there are a ton of empty homes for sale.
Direct Sales or Home Parties – Amway, Melaleuca, Tupperware, Premier Designs, etc.
Personal Coaching – Helping others achieve their goals and dreams.
Consulting – Get paid to share the expertise you gained from your previous career experience.
Personal Training – Help others achieve their health goals.
Personal Shopping – Shop for groceries, clothes, home furnishings, gifts, etc. for the elderly, wealthy, or those who just don't have the time to do it themselves.
Dog Walking/Poop Patrol – Caring for dogs and cleaning up their mess in the yard. I'm amazed at how this "poop patrol" idea has taken off in my area.
House cleaning – Cleaning for others.
Recycling/Trash Hauling – One person's trash can be your ticket to treasure!
Freelance Guru – Chances are good that someone will pay you to do just about anything you know something about or enjoy doing.
Photography – Engagements, weddings, parties, events, corporate, etc.
Car Cleaning and Detailing – Thorough cleaning, waxing, and cosmetic repair of cars.
Power Washing – Washing decks, homes, cars, trucks, buildings, equipment, etc.
Massage Therapy – The more busy and stressed-out we get as a society, the more people will love, and need, the health benefits of massage.
Note:  Before starting a business, it's always a good idea to consult an attorney to understand the financial and tax ramifications.  Depending on the circumstance, you may want to incorporate or form an LLC (Limited Liability Company).
What else would you add to this list of the best home-based business opportunities?  Which ones sound good to you?
You might also like: