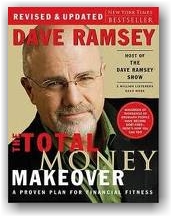 Are you looking for the best gift for high school or college graduates this year?  Give them the gift of financial freedom!  Truly, it's the gift that will keep on giving for a lifetime!  What do I mean?  Read on…
The months of May and June seem filled with high school and college graduations in our area.  It's a time to celebrate what students have accomplished in school, and a time to encourage them as they go out into the world to set their own course.
This weekend at church, our pastor invited all the high school seniors up onto the stage so the congregation could congratulate them and pray a blessing over them.
Next, he did something I thought was unique and very fitting.  He gave each grad a copy of Dave Ramsey's book, The Total Money Makeover:  A Proven Plan for Financial Fitness.  Dave Ramsey, a financial expert who has touched the lives of millions through his radio and TV shows, has been a good friend of our church over the years, as we have hosted many of his speaking events.
As our pastor gave out the books, he reminded us that now, more than ever before, these grads will be faced with endless credit card offers, school debt payments, and the desire to buy more and better "stuff" now and worry about paying for it later.
He asked the grads to read the book, learn the lessons inside, and spare themselves years of needless frustration and pain that is so often caused by debt and poor financial decisions in life.  Then he announced the church was hosting a special financial seminar geared just for the graduates later this summer, to help them plan wisely for their financial future.
I thought this was an excellent idea, and a wonderful gift to give our graduates.  Looking back on my own life, I remember well that first credit card offer, and how easy it was, once I got that card, to buy whatever I wanted without thinking of when or how I was going to pay it off.
I wonder what would have happened if someone had given me a book like this 20 years ago, and sat down to encourage me to decide to be financially free?  What about you?  Did anyone do that for you?  Did it make, or would it have made, a difference in your life?
You might also like: