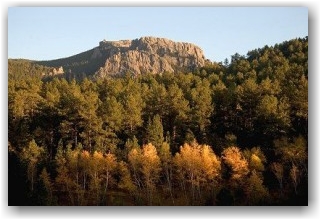 Have you ever gone for a walk, hike, bike ride, or a drive when you're contemplating a major decision or life change, or when you need some extra inspiration?
Or have you ever noticed that you get some great ideas or find clarity about a situation when you're out in the great outdoors, even if you weren't specifically thinking about the issue at the time?  I know I have.
This weekend I'm traveling for my job in the Black Hills of South Dakota.  I get out here several times each year and always love being here, no matter the season.  There's something special about these mountains. Native Americans believe the Black Hills are sacred. And as I drive or hike in the mountains, I always feel a greater sense of awe for, and a closer connectedness to, the Creator.
I think there's something about being outside, in the beauty of creation, that reminds us that our source of strength and inspiration, and our power to change our lives, doesn't come from ourselves, but from a power that is much larger and greater.
I like the way the Psalmist described how the mountains pointed him to the Divine:
I lift up my eyes to the hills – where does my help come from?

My help comes from the Lord, the Maker of heaven and earth.

He will not let your foot slip – he who watches over you will not slumber; indeed, he who watches over Israel will neither slumber nor sleep.

The Lord watches over you – the Lord is your shade at your right hand; the sun will not harm you by day, nor the moon by night.

The Lord will keep you from all harm – he will watch over your life; the Lord will watch over your coming and going both now and forevermore.

Psalm 121
The Lakota people here in the Black Hills can relate.  Young Lakota men have gone on "vision quests" in these mountains for hundreds of years to ask the Creator for clarity to understand their purpose in life and for wisdom and strength.
So whenever I'm in the mountains, I make some time for prayer and reflection, asking God for clarity, wisdom and strength. I love to recite this Psalm and insert the name of the mountain in place of the word "hills." So today I would say:
I lift up my eyes to Harney Peak – where does my help come from?  My help comes from the Lord, the Maker of heaven and earth.
Does anyone else enjoy doing something similar?  If so, please share your experience.
You might also like: