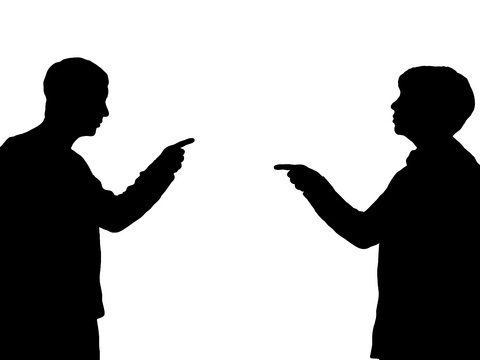 If you're new to Life Compass, on Sundays I write on Spirituality, Faith and Ethics. Here's why.
Sadly, it's human nature to blame someone else when life doesn't go the way we had hoped.  So I guess I shouldn't have been surprised to discover that there's now a holiday for it.
Blame Someone Else Day occurs on the first Friday the 13th of the year, which for 2010 happens on Friday, August 13.  It's a day to blame someone else for the mess you're in – whether you've caused it yourself through your own fault or not.  Go ahead, blame the Congress, the President, your neighbor, your boss, and even God.
I don't have any scientific evidence to back it up, but my guess is that God gets the blame more than anyone. What do you think?

In my own life, I can point to many times when I've asked, "God, why did you allow this to happen?"  And sadly, there have been times when I've been mad at God for allowing me to mess up my life…for allowing me to make the same mistakes over and over….and over.
Proverbs 19:3 says, "People ruin their lives by their own stupidity, so why does God always get blamed?" (The Message)
It's a good question…and one that needs to be answered.  Why do we blame God?
Maybe it's because we think God is supposed to only let good things happen.  Or maybe we believe he's supposed to protect us from ourselves and not allow us to suffer any consequences for our mistakes, wrong choices, or inaction.
Perhaps the real reason we blame God is that we don't want to take responsibility for our own actions or inaction.  Somehow, we believe that actions are neutral…there's no right or wrong, and no consequences for wrong choices.
It all goes back to Adam and Eve.  When they committed the first sin, God asked Adam what happened, and Adam blamed God.  He said, "It's because of that woman that you gave me."
Remember, blame comes with a price. It can make us bitter. It impacts our relationship with the person we're blaming.  And it keeps us from finding real solutions to the problem.
How can we stop playing the blame game? Two thoughts come to mind:
Be willing to admit our mistakes and failures.
Look for blessing instead of blame.  What I mean is, look for the silver lining.  Make a list of all the ways that good could come out of the situation.  Make a list of all the lessons you can learn…and hopefully not repeat.
What else would you add to the list?
You might also like: